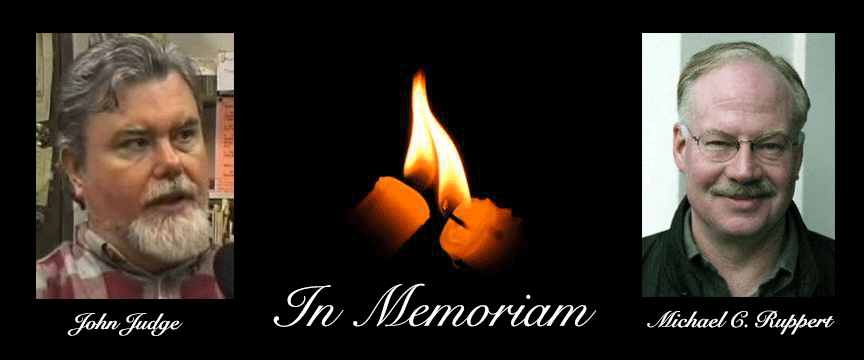 It is with great sadness that the Northern California 9/11 Truth Alliance marks the passing of two of the finest researchers into the events of 9/11 — Michael C. Ruppert and John Judge.

Michael C. Ruppert was a former LA Detective, whistleblower and investigative journalist, and one of the first people to speak out on the inconsistencies of the official story of 9/11. In later years he wrote extensively about 9/11 on his website, From the Wilderness. He also wrote one of the most comprehensive books on the subject, "Crossing The Rubicon: The Decline of the American Empire at the End of the Age of Oil." Ruppert died on April 13, 2014, of an apparent suicide.
Here Michael is interviewed by Alison Weiner, Media Mayhem host on the subject of 9/11
Northern California 9/11 Truth singer-songwriter, Vic Sadot, dedicates the song "Blowback or Bloody Treason" to Michael Ruppert
---

John Judge was one of the foremost researchers into the assassinations of the Kennedy brothers and MLK. He was the founder and director of Coalition on Political Assassinations (COPA), a group dedicated to researching and exposing these events. Judge also spoke frequently on the inconsistencies of 9/11 to audiences around the country as an insider. Having grown up in a Pentagon family he describes details of missile batteries around the Pentagon and why the planes on 9/11 were allowed in restricted air space unhindered. Judge died on April 9, 2014, in what looks like complications from an earlier stroke.
Here John explains his background and analysis of events of those day:
For more about John Judge:
In Memory of John Judge – Godfather and Pioneer of Alternative Media
And, here Bonnie Faulkner from KPFA Guns and Butter Remembers both Judge and Ruppert:
https://www.kpfa.org/archive/id/102200
The Berkeley Fellowship of Unitarian Univeralists (at 1924 Cedar Street, Berkeley, CA) will be holding a film series on two separate nights in honor of both Judge and Ruppert. On Thursday, May 8, 2014 7:00 pm – 10:00 pm, will be a film series in remembrance of John Judge.  Films shown are: John Judge in 1994: "The Hidden History of the United States: Who Really Runs America? – Part One: from The Eclectic Point of View (1:59:39). After a brief intermission, we will show the short (38:23) "Closing Remarks" by John Judge to the 50th Anniversary Conference on President Kennedy's Murder , which was presented on November 24, 2013 in Dallas, Texas. The theme was "Fifty Years in Denial is Enough: Free the Files! Find the Truth!"
…and, on Friday, May 23, 2014 7:00 pm – 10:00 pm, will be a film series in remembrance of Michael C. Ruppert. Film show: "THE GREAT AWAKENING" (1:17:43) – The Great Awakening Speech empowers and invites humanity to change the way it thinks and perceives reality. On 9-11-2011 Mike Ruppert, the 'tracker of truth' , spoke in Seattle. He evoked a powerful, inspiring, selfless message of incorruptible truth and awareness; shining a bright light in an age of darkness and deceit.
Thank you for being speakers of truth in a time of lies. You will be missed.
Condolences to Michael and John's families.