Help spread the truth!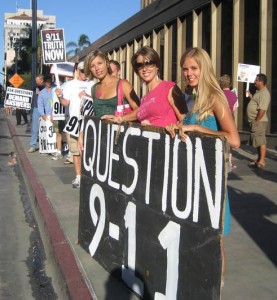 Here are some resources that you can print out, buy and hand out. Also, see our event calendar page for events and meetings that you can attend.
Deception/Perception Dollars
Conceptualized by activist Carol Brouillet, an original founder of the Northern California 9/11 Truth Alliance, the amazingly popular Deception/Perception Dollars are not only full of great websites for people to get information on topics ranging from 9/11 Truth and anti-war news, but their novelty as a unique conceptual dollar generates a lot of enthusiasm from the public. To order, visit: deceptiondollar.com
11 Remarkable Facts about 9-11 Fact Sheet
One of the best hand outs to educate people about 11 inconsistencies of the 9/11 narrative. You can click on the links below to print out for your own use or buy them online at  911sharethetruth.com:
11 Remarkable Facts Card about 9-11 (front)
11 Remarkable Facts Card about 9-11 (back)
Flyers
WTC Building 7 Flyer
Why Demand A New Investigation Flyer
Posters
Expose the 9/11 Cover Up tabloid sized poster (from Digital Style Design).
More Resources from 911Truth.org
http://www.911truth.org/page.php?page=resources
11th of the Month Actions
Join Truth Action and No. California Truth Alliance Members every 11th of the month to educate members of the public about 9/11.